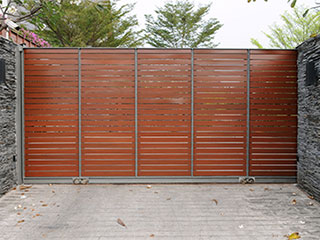 The classic beauty of gates with wooden panels and posts is hard to beat. They are also quite reliable, given their inherently sturdy nature. However, there is one major problem with wood: it can rot and crack if it does not receive regular maintenance. In this case, rotten gate repair may not be sufficient to resolve the problem and you will have to replace the affected sections, sometimes even the entire gate. Use the following measures to reduce the risk of such an issue to the possible minimum.
Start Right After The Gate Installation

Wood requires care from day one. It needs to be sealed against moisture to prevent it from warping and rotting later on. While it is true that there are natural compounds in the material which work to protect it, but they are vulnerable to water and won't do as good a job as a protective layer of paint.

Why Moisture Is The Enemy

When water gets inside wood, it causes it to expand. As it dries, the wood constricts, and as a result, tiny cracks begin to appear and the risk of rotting becomes extremely high. Other components such as the swing gate hinges can get affected as well in case deformation occurs, and may get stuck, preventing the system from opening or closing all the way.

Which Paint Should I Use?

Gate Repair Long Beach recommends that you select a sealant based on the type of wood that your gate is made from. Ensure that it provides proper protection and contributes to the aesthetical appeal of the gate as well. It's worth noting that clear sealants often create a faded grayish look as time passes, which is why a product with pigment may be a better idea.

Keep Your Gate In Great Condition

You need to clean the unit annually. A potent cleaner suitable for most types of woods is oxygen bleach. You should apply it without using very hot water or a pressure washer. The wood will most certainly require sanding after the cleaning. Just make sure that the surface is completely dry to avoid causing damage. The sealant must be applied to the dry and sanded wood afterward. Things are not as simple as with steel gates, but the maintenance effort will be worth it. For more information on various related topics, get in touch with Gate Repair Long Beach and consult with our experts.